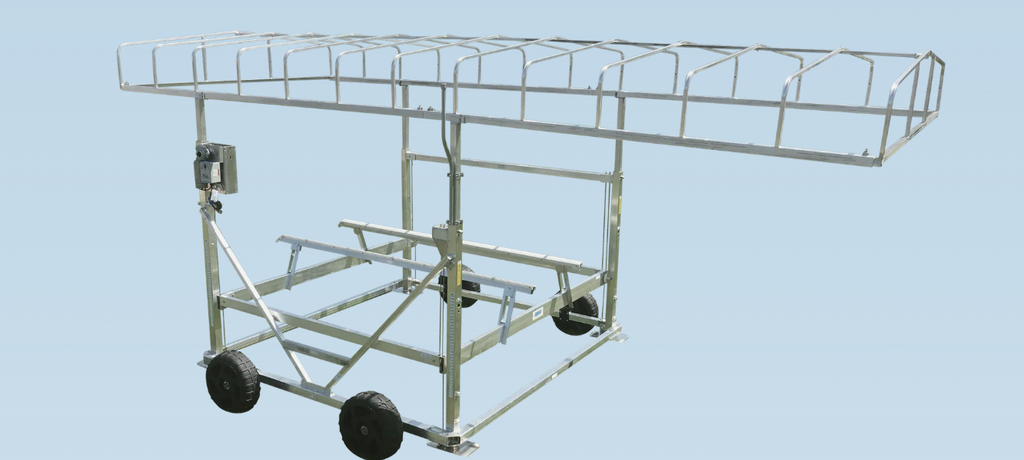 Daka 5000# Vertical Lift
Make the most of your time on the lake by getting your boat or pontoon in and out of the water without worry. DAKA's secure vertical boat lifts not only protect your boat from water conditions, they are safe, easy to use, and adapt to fluctuating water depths. Our lifts can handle weight ranges from 1,600 to 8,000 pounds. Made with stainless steel cables, bushing, and bolts, our durable marine-grade aluminum lifts are build to last; and they come with a 15-year warranty.

Vertical Boat Lifts
Our boat lifts are built with marine-grade aluminum and stainless steel cables and fasteners to ensure years of smooth operation and up to 61" of height. Easy-adjust leveling legs can be raised or lowered with ease using a cordless drill. DAKA lifts also feature a wheel stop to prevent raising the lift carriage too high

Lift Feature easy adjust cordless drill
Easy Adjust Legs
Leveling your boat lift is worry-free with easy adjust legs that require only a cordless drill to move. Plus, make your adjustments topside, no need to get into the water.


Lifting Height
With a full 61" of lifting height plus an additional 30" of leg adjustment, our vertical boat lifts will keep your precious cargo safe and sound.

Low Maintenance
We use stainless steel cables and parts to ensure your boat lift will last for years to come. Our boat lifts are also made with vertical guides that prevent metal of metal wear and reduce maintenance.

Boat Bunks
Cradle your boat with one of our bunk material options, including aluminum standard, full-length aluminum and vinyl, or full-length carpeted. Additional options available to accommodate any kind of boat.

Pontoon Bunks
Keep your pontoon safe and secure with our wooden bunk kit.