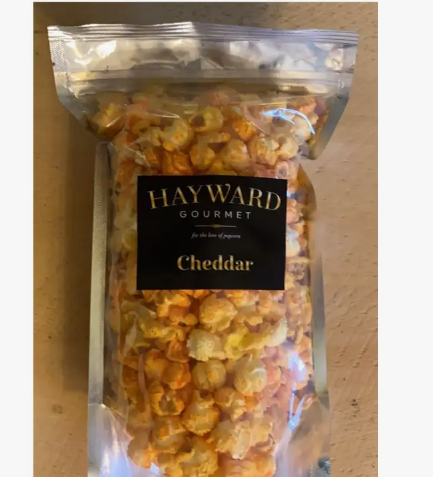 POPCORN
Popcorn is what we do best here at Hayward Gourmet! All of our popcorn is handmade from scratch and hand-packed in our licensed manufacturing facility. We are a family owned, small business in small-town Hayward, WI.

Our Gourmet Flavored popcorns came in a wide range of flavors. There is definitely a flavor for eveRYBODY. Take a look at our Popcorn Flavors Profile image attachment below.

What's in it: all of our popcorn is popped in top-grade coconut oil with mushroom seed, with a few exceptions where we use butterfly seed; specifically in our Snickerdoodle and Cotton Candy Kettle Korns.

Packaging: popcorn is bagged by hand into 7 cup (medium size) bags with a clear front / silver back. The bags include a tamper-proof, heat sealed protective tearable strip and a resealable press-to-close zip to maintain freshness after initial opening of product.